I have been so behind with my blog & I told myself at the beginning of the New Year, that I would be more consistent... FAIL! Oh well, at least I'm starting somewhere right!? This trip happened a few weeks ago & we planned it for my 32nd birthday & 6th anniversary! We both love D.C. & since it's only a few hours away from where we live, we knew it was where we wanted to go. Also, we save our credit card travel points & so the hotel stay was completely free using our points!
The first day in D.C. we got there a little bit late & decided to rest in the hotel room. When my family came to visit us las year, they booked our hotel & we stayed at The Fairfax at Embassy Row & we loved it. So, I booked our room there for this trip & it didn't dissapoint! After settling in, we decided to head to Good Stuff Eatery (Matt has to eat here every time we go to D.C.) & had some burgers & fries & then we all split a cupcake from Georgetown Cupcakes (my absolute favorite). Trips are just for eating right?!
The next day, we decided to bundle up & walk to Georgetown for coffee & breakfast. It was snowing, so we were all excited because it literally felt like we were in a snow globe! Georgetown has got to be one of our favorite places to visit while in D.C. & I recommend you all go there too! It gets really busy, but if you just walk around the side streets & see all the homes & apartments, it is absolutely beautiful. We also went to Georgetown Cupcakes again, because, why not? And then we headed to &pizza and got a vegan pizza & it was AMAZING! It is a make your own pizza place (sort of Chipotle style) & I loved that! They even had vegan cheese which made my heart so happy.
After playing in the snow a bit, we walked from Georgetown down to the White House, but since they were setting up for the inauguration, they had it all fenced off so we couldn't really see it that great. Thankfully, Ollie was napping in his jogger the entire time so it was sort of like a date for Matt & I and so we just walked around. This was also the first time in over two years of traveling to D.C. that we finally saw the Capital building without all the scaffolding around it! It was beautiful. We then decided to head to Founding Farmers to have dinner & it all tasted so good! It wasn't super kid friendly (no kids menu) & so we ordered a pizza for him, but felt so bad because the pepperoni was really spicy, so he didn't even eat it. I ordered the homemade stuffed sweet potato & veggies (so yummy) & Matt ordered some sort of beef fried rice which he said was amazing! After dinner, we made the long walk (a few miles) back to our hotel & pretty much were frozen when we got there. I will say, I wish we got two rooms, because Oliver cannot fall asleep when we are still awake. So, at around 9pm, it was lights out & in bed!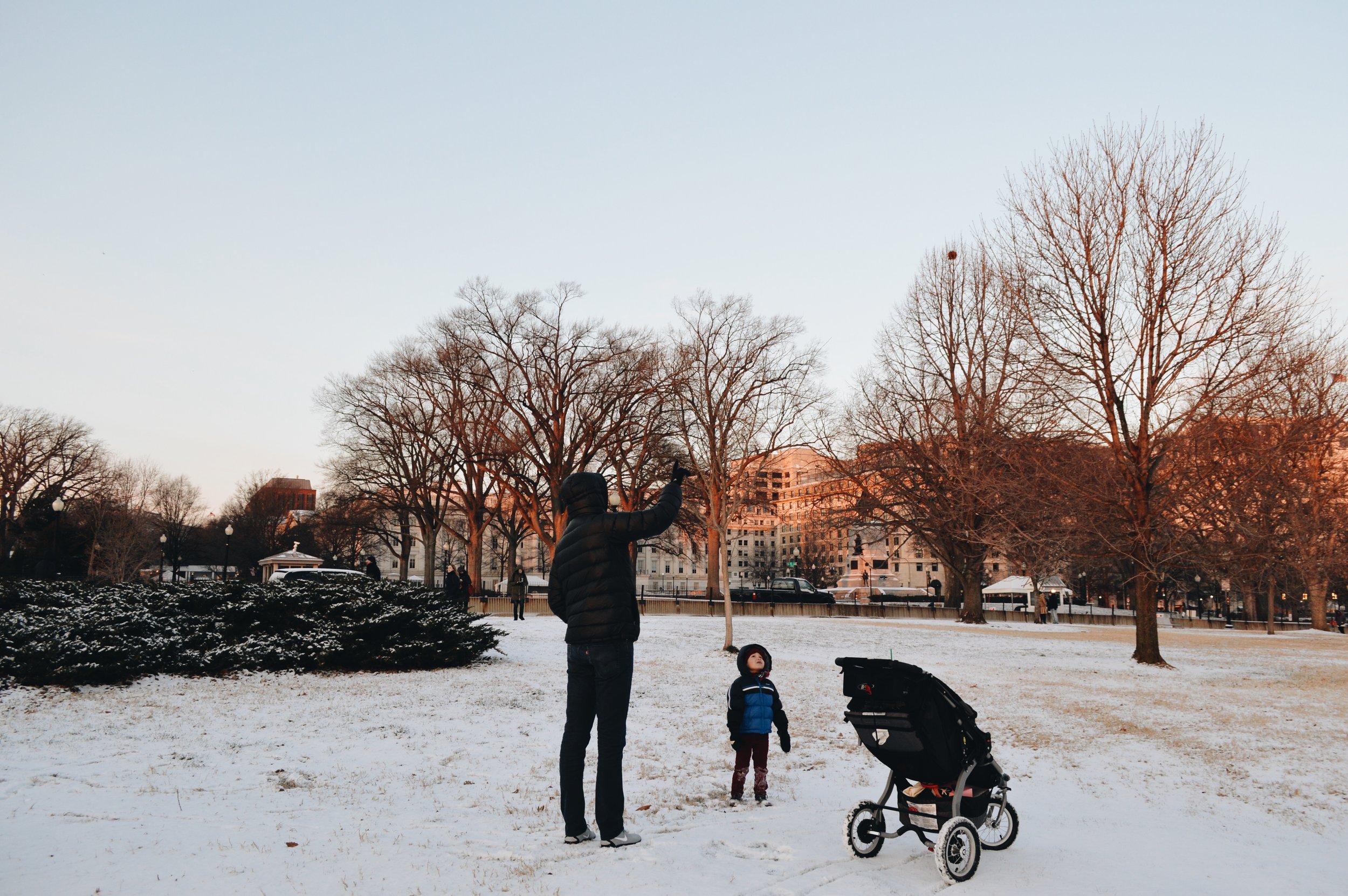 The last day in D.C. we just took it easy & got coffee & headed to Ikea! We had to get back semi early since Matt started his new school schedule the next day. One thing about living over here that I will miss so much, is that we can travel to amazing places in just a few short hours. The history that is all over the East Coast is truly remarkable. I will never take for granted the amazing opportunities we have had while living here. This place, Washington D.C., I will miss dearly.